Friends in Christ, 
This weekend we are blessed and excited to have Pastor Cynthia Berry joining us to preach. 
She is the daughter of Allen and Lillian Carter and you can read all about her in the newsletter below. Join us for an energizing and refreshing word!
In gratitude for all the ways you are the hands and feet of Jesus, 
What's Up at Ascension This Fall?
Here's a Sneak Peek
It's going to be a September to Remember – and October and November and onward, too, as the new church and school year unfolds. Even though it's summer, let's have a sneak peek now. 
First, as you are already aware, we have our special September 10th event celebrating the 75th anniversary of the founding of our church and the 60th  of the opening of Ascension Lutheran School. We'll have one worship service only, at 10 AM, with service opportunities in connection with the day (see below). Outdoor festivities begin at 11. We're talking live music, free Mr. Softee Ice Cream, climbing, face painting, games and more. 
It's a perfect opportunity to Invite friends, neighbors, colleagues and other acquaintances to come join us here! And that leads us into what will be our emphasis for the 2023-2024 year, as we take a closer look at our motto: Invite-Grow-Serve.
Expect sermon series focusing on each of the three parts, with that first word, Invite, providing an exploration of our call to welcome others. 
Make a note: Remember, our contemporary worship service is going to move to 10:30 AM this fall, as is Adult Ed. This is so that we can create more space and time for fellowship and to welcome visitors.
Also this fall, expect to see a showcasing of our ministries that reach out into the world. After all, we're not here to serve ourselves; we're here to Serve others. It's a great time to get involved with our Global Ministries Team, our Community Concerns Team, and others that give us great service opportunities. 
In this way, we will certainly Grow. Get the Blessing, Be the Blessing. 
Welcome Reverend Cynthia Berry
Pastor Cynthia Berry is a native Californian, who grew up in Los Angeles. She is a mother of two young adults and is the daughter of Ascension members Allen and Lillian Carter.
Pastor Cynthia received a Master of Theology in Ministry with emphasis in youth and family culture, from Fuller Theological Seminary in Pasadena, California. She is an ordained minister with the International Church of the Foursquare Gospel. Continued…
Eloise Cohen
We join in grieving Eloise Cohen, who passed away Wednesday after a long battle with cancer. She was a driving force, inspiration, and pillar of our church and a dear friend of many here. She was the leader of our Global Ministries Team, our Bread for the World advocacy, and our Matthew 25:35 ministry. She worked with refugees and interfaith friends, and was the organizer of numerous drives and missions. Her work in our local community and Cal Lutheran University earned her the gratitude of many.
Eloise's achievements and accolades will be spelled out further in coming days and weeks, but for now, we rejoice in knowing that she is in the arms of the Lord, and reunited with her beloved parents, Reverend Dr. Ray and Helen Olson. (photo of Eloise and Chuck Cohen/Thousand Oaks Acorn)
Thank you, Foundation! Thank you, Young Painters!
Our youth will be able to enjoy the newly-refurbished Dugout — thanks to our Ascension Lutheran Church Foundation providing the funds for new carpeting, flooring, and paint. And thanks to our youth, who did a super job painting the room! Next, the youth will finish decorating the walls.
If you'd like to, stop by and check out all the improvements. The Dugout is behind the Bethlehem Room, which is behind the church offices (and it's beneath the gym). (Photos by Pastor Steve Herder.)
Save The Date: September 10!
Cakes and Treats and Supplies Needed September 10!
We'll have another cake/treat walk this year at our Rally Sunday/60th Anniversary of the School Celebration.  We need you!  Can you make/buy cakes or other treats?  Spread the word, and sign up HERE. 
We are also looking for items we can borrow for the day:
pop-ups
large lawn games

 

large fans with misters attached
Please call the office if you are willing to lend any of these items. 
September 10 Update
Be sure to invite friends and neighbors to come help us celebrate at our Sept. 10th event!
The high-spirited band Fiddle Leaf (@fiddleleafmusic) will be playing tunes both Irish and pop at the festival. There will be a rock wall with monkey jumps, a bounce house, and a toddler bounce house. The latter is part of a toddler fun area being planned. There will be games, face-painting and free Mr. Softee Ice Cream. Stay tuned for more information on the party!
Sept. 10 is also the tenth anniversary of the ELCA's "God's work. Our hands" service day – and we are joining in with a food drive (see flyer this page), the packing of 300 Kits of Care for Lutheran World Relief, and home visits for seniors and others who are not able to make it to church.

SAVES THE DAY:
Ascension's Elijah Lomeli was called to come and repair a part that was broken on this skip loader. Elijah is also Ascension's newest bus driver. His mechanic skills, with our bus driver, Jeff Hengst's, come in handy!
Slide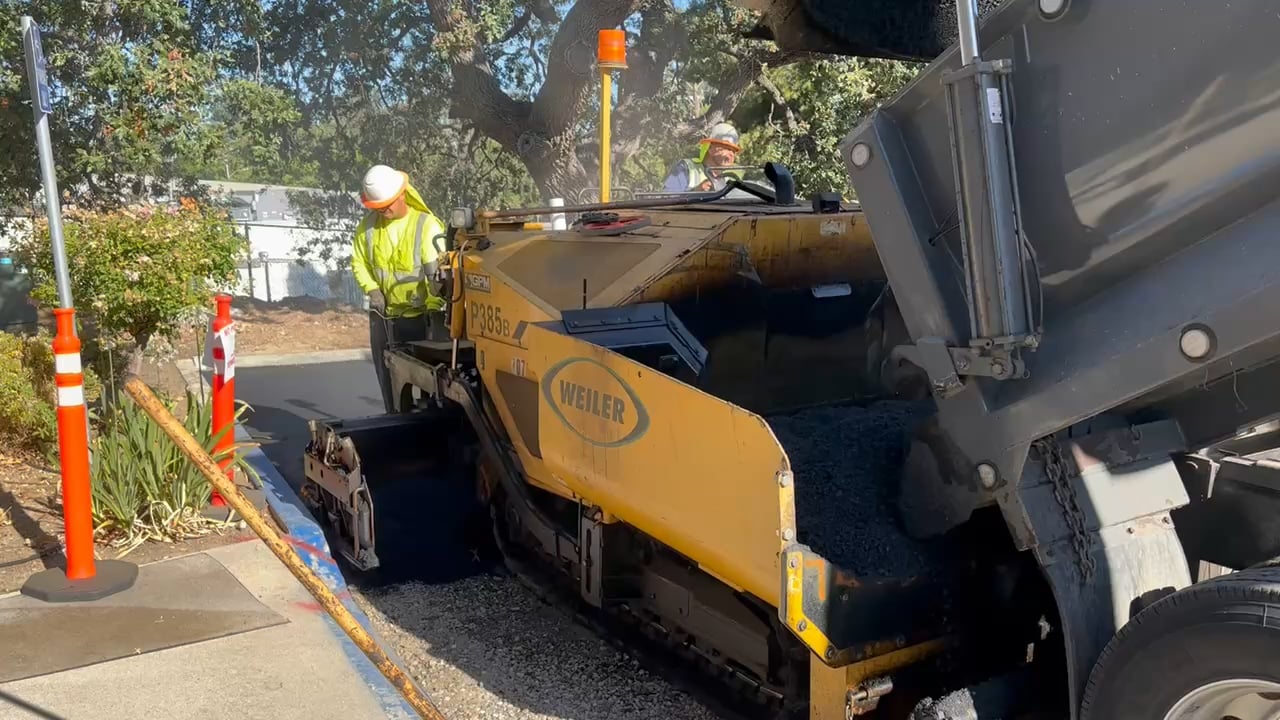 KEEPING THE CAMPUS IN SHAPE:
We have newly resurfaced parking lots in front of the church offices and the sanctuary, in addition to the fresh paint on our buildings. Thanks to Pastor Steve Herder for the photos and video!

Let Us Welcome New Eucharistic Ministers and Consider Training to Join Them
Please welcome Ron Rudrud, Beverly Selle and Ruth Rarick to Ascension's Eucharistic Ministers team. Their installation will take place at the 9 AM service Aug. 13.
On Aug. 12, there will be training for the Eucharistic Ministry in Founders Hall. The class will take place from 8:30 AM until around noon. To join the class, or if you would simply like more information, please contact Pastor Steve Herder or Pastor Ron Cox (; cell 805-807-5257). 
Eucharistic Ministers take the sacrament of Holy Communion from worship to share with those who are unable to come to the sanctuary. This does not take the place of pastoral visits, but supplements that ministry. By taking Communion to those who cannot worship with us, we are including them in the congregation's worship. You are reminding them of God's love and their congregation's love and concern for them. Your time with them will be a continuation of the congregation's worship.  
On Sept. 9-10 – God's Work Our Hands Sunday as well as Ascension's anniversary celebration – we are hoping to bring Communion to as many of those who are unable to make it to in-person services as possible. 
Ascension's Eucharistic Ministry is now six years old, and has provided this special care for scores of our church family members who have been homebound or in care facilities — truly sharing God's love. 

Stock Up at Fair Trade Lane Sunday, August 13
Bring your shopping list…  Fair Trade Lane Will Be Open August 13 from 10:10-10:55 AM. This is a great opportunity to stock up on Fair Trade favorites, including Red Barn Family Farms Cheddar Cheese, for end-of-summer gatherings and for back-to-school lunches and snacks. Chocolate bars fit easily into boxes bound for college with new or returning students. Treats made with chocolate chips are fun to enjoy with school lunches and as after school snacks. In addition to your favorites, we've got a few new items too! 
A big Fair Trade Thank You goes out to Ascension's Finance Team for getting new electronic payment options set up and put in place for our use and for other Ascension ministries to use.  We can now accept payment by cash, check, credit card and a couple of other electronic options.  Credit card purchases are subject to a convenience fee. 
If ordering in advance works best for you, orders for your Fair Trade favorites can be placed until 3:00 PM, Friday, August 11, 2023. Order forms are available HERE  and also on Ascension's Fair Trade webpage as well.  Paper copies are available in the church office and in the blue folder at the Information Desk in the Narthex. You can also send an email to with the items you wish to order along with your name, address, phone number. Payment at the time of pick-up. We will notify you by email of confirmed pick-up date(s), time(s), and location
Looking forward to meeting & greeting you on Fair Trade Lane! Invite friends to come and check out Fair Trade Lane too!

Book Club
The Ascension Book Club meets the 3rd Thursday of  the month at 1:30 PM in the Bethlehem Room, in the church office building. The group chooses books based on members' interest and discussion is led by one of the members. Books vary from popular novels to nonfiction. Please feel free to join us–we are a friendly group.
Upcoming books:
Aug 17  "A Woman of No Importance " by Sonia Purnell
Sept 21  "Act One" by Moss Hart
Oct 19  "The Great Alone"  by Kristen Hannah
Nov 16  "A City of Promise"  by Beverly Swerling 
Dec 14.  "Christmas by the Book" by Anne Marie Ryan
In November we will choose books for the next few months. We are open to suggestions. Books should be available by Libby, local library, Amazon or thriftbooks.
LET YOUR LIGHT SHINE!
Ann Lane
LAST CALL: Women's Bible Study. Join Us!
If you've attended Women's Monday Morning Bible Study before, we hope you'll come back to our family again. And if you've never been a part of WMMBS, we hope this year will be your year to join us. We're about 50 women strong (we meet in small groups) and we're united by our love for our Lord and Savior, Jesus Christ, our yearning to learn more about His will and His way and our care for each other.
The book of Acts is the focus of our study that begins Monday, Sept. 11, and continues Mondays through May 6, 2024. This year's morning study will center on Warren W. Wiersbe's two-book series on Acts, "Be Dynamic" and "Be Daring." Cost is $30, payable at registration, and includes the two books.
The Thursday evening Zoom group (contingent on at least five participants) will also study Acts, but will use N.T. Wright's single-book study, "N.T. Wright for Everybody: Acts."  Registration is required, but no payment as each participant will purchase her own book through Christianbook.com or Amazon ($8.99 or $9.45 respectively). 
Sign-ups for both are on now — and end Aug. 13 (registration deadline).
Want to register and/or ask questions? We'll have a table on the patio after the 9 AM Sunday service Aug. 13. Please come by; we'd love a chat.
Online registration/payment is also available through Aug. 13 on our website, ALCTO.org and HERE for Monday Morning and HERE for Thursday Evening Zoom.
Our Prayer
We pray that you may once again meet the Risen Christ through the Word and Sacrament ministry, and through the fellowship of this family of faith.
If you do not have a church home, we would like to invite you to worship with our Ascension family again.
All people who are baptized and believe in Jesus Christ as Lord and Savior are welcome to receive the Sacrament of Holy Communion.
May God bless you in your worship!
Pastors Tim Delkeskamp,  Julie McCain, and Steve Herder
Matthew 5:13-14
Leviticus 2:13 (NLT)
Revelation 21:23
Isaiah 56:1, 6-7
Psalm 67
Romans 11:1-2a, 29-32
Matthew 15:21-28