VB
MB
TB
TB
HC
NC
SD
BF
HH
AM
PM
NM
HN
MR
DS
MJS
CS
HW
JW
DW
MW
CWY
Saints of God,
Does hearing yourself called that sound a little strange?  Maybe we should try on that title for ourselves more than once a year.  This All Saints' Weekend, as we remember with hope the saints who have gone before us, I'm grateful we're part of the kingdom of God where we rarely get what we deserve.  Join us as we talk about that, and all the ways that Jesus longs to bless us!
In gratitude for all the ways you are the hands and feet of Jesus,
All Saints Day will be celebrated this weekend.
At our services, twenty-two names will be read.  These are the members of Ascension who have died since last All Saints Day or people at whose funeral services our pastors have officiated in the past year
As each name is read, a bell will be tolled.  This will be done during the distribution of Holy Communion to remind us that each time we commune, we gather at our Lord's Table with fellow saints around the world and through all time and eternity.  It is truly an amazing gathering.
There may well be people in your families who have also died in the past year in addition to the names that will be read.  Take this opportunity to give thanks to God for those who have died and yet who live forever in your memories and are caught up in the eternal love of God.
You are also invited to light a candle in one of the crosses at the front of the sanctuary.  You may do this as you come to worship, as you return to your seat following receiving Holy Communion, or at the conclusion of the service.
"I am the resurrection and the life," says the Lord; those who believe in me, though they die, yet shall they live, and whoever lives and believes in me shall never die."
(John 11:25-26a)
This Week in Adult Education:
LEAVING A LEGACY FOR THOSE YOU LOVE
November 6, 10:10 AM, Founders Hall
Paul Evenson, a Trustee on our Ascension Lutheran Church Foundation board, will lead our discussion on behalf of the Ascension Lutheran Church Foundation. What is the Legacy we are leaving behind for the future?
With Scripture and Stories, Paul will explore a process to identify the values and commitments for which we individually are most grateful.  What is the connection between Faith and Gratitude?  What brings you the greatest joy in our life and service together – individually and as a faith community?  What are the many blessings and benefits from the generosity of our community and the work of our ALC Foundation?  What are some opportunities we have today for growing the capacity of our Foundation for future service?
We look forward to seeing you there.
Next Week:
ST. ANDREWS UNITED CHURCH IN CAIRO, LIVE
November 13, 10:10 AM, Founders Hall
Join Rev. Christie Manisto, pastor of St. Andrews United Church in Cairo, Steve Saari, special education coordinator for St. Andrews Refugee Services (StARS) and other StARS leaders as they join us "live" from Cairo, via Zoom, to share more about StARS – the multifaceted accompaniment ministry in Cairo serving individuals and families who have been forcibly displaced from their homelands.

CLICK HERE for more info about St. Andrew's Refugee Services and how you can help support their work with displaced children and adults

Great Music Returns With UCLA Brass & Jens Lindemann!
We are so fortunate to once again welcome the UCLA Brass and Jens Lindemann for our first concert of the season since COVID came along. 
The pandemic has made it difficult for many musicians and has obviously affected our free concert series offerings. 
Invite a friend to share this exceptional musical event with you.
Green Faith Tip from the Coffee Bean Farmer Fairy

:
Ways to reuse coffee grounds and help the environment as you celebrate:
Coffee grounds make great fertilizer because they contain several key nutrients required for plant growth. They can also help attract worms and decrease the concentrations of heavy metals in the soil.
Adding compost to your garden can significantly improve the health of your plants. Coffee grounds can help increase nutrient levels and decrease the greenhouse gas emissions of your compost.
Coffee grounds contain compounds that are toxic to many insects. You can use your coffee grounds to repel mosquitos, fruit flies, beetles and other pests. Like other insects, fleas do not like coffee. Bathing your pet in used coffee grounds may help keep fleas at bay.
Looking for a great place to buy Fair Trade Coffee? Our own Fair Trade coffee sales are underway! The current ordering period ends November 6, so hurry!  CLICK HERE.
Free of Charge!
Saturday Matinee  with Pastor Tim
The first ever multi-season series about the life of Jesus is coming to the big screen.
"The Chosen" is debuting the first two episodes of Season 3 in movie theatres, and Pastor Tim is hosting a group to see the shows on Saturday, November 19 at 12 noon at the Regal Janss Marketplace.
"The Chosen" is uniquely produced by crowd funding and shown to viewers on multiple streaming services without charge. Also, thanks to a Thrivent grant that we are able to get 20 movie tickets for free!
CLICK HERE to sign up . Please note that we are limited to 20 spaces for this event.

Register by clicking  HERE
Memorial Services Set
The memorial service for Marty Bielke will be held November 12 at 1 PM
The memorial service for Pastor John Wilker will be December 3 at 1 PM
LAST CALL FOR DEVOTIONAL SIGNUPS!
Deadline for content is November 7.
Writers and anyone with a bent for writing, you're invited to contribute to this year's Advent Devotional. You'll recall that each year, students from Ascension Lutheran School provide the artwork and members provide devotions for the booklet, edited by Dan Lareva, that has been a special part of the season here for many years. It's a welcome way to share Advent together and set our minds each day on the reason for the season. 
Sign up now by clicking here: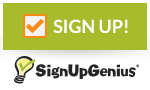 Our Prayer
We pray that you may once again meet the Risen Christ through the Word and Sacrament ministry, and through the fellowship of this family of faith.
If you do not have a church home, we would like to invite you to worship with our Ascension family again.
All people who are baptized and believe in Jesus Christ as Lord and Savior are welcome to receive the Sacrament of Holy Communion.
May God bless you in your worship!
Pastors Tim Delkeskamp, Steve Herder, & Julie McCain
Job 19:23-27a
Psalm 17:1-9
2 Thessalonians 2:1-5, 13-17
Malachi 4:1-2a
Psalm 98
2 Thessalonians 3:6-13
Luke 21:5-19